AT49F010


Atmel - 1 Megabit (128K x 8) 5-volt Only CMOS Flash Memory
RE-WRITTABLE
FLASH MEMORY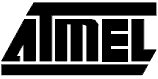 Atmel - AT49F010 (32 pin - DIP package)


Pictured above is an actual DIP style AT49F010, pulled from an old PCI modem card. It's intended purpose, originally, was to store the program instructions used by the modem card's CPU (processor). Since FLASH chips are reprogrammable, this chip will eventually see a new life.

Old, obsolete computer circuit boards are a great source to pull parts from, especially if the chips are socketed.




AT49F010 DATASHEET




Features:





Single Voltage Operation




- 5V Read




- 5V Reprogramming · Fast Read Access Time - 45 ns · Internal Program Control and Timer · 8K bytes Boot Block With Lockout · Fast Erase Cycle Time - 10 seconds · Byte By Byte Programming - 10 ms/Byte · Hardware Data Protection · DATA Polling For End Of Program Detection · Low Power Dissipation




- 30 mA Active Current


- 100 mA CMOS Standby Current · Typical 10,000 Write Cycles

Can be used in a wide variety of applications, including general purpose memory storage (data loggers, buffers, digital sound recorders) as well as an integral part of a primitive computer system or an on board motherboard BIOS operating system.

For larger memory capacities check our index or visit www.atmel.com for more information.